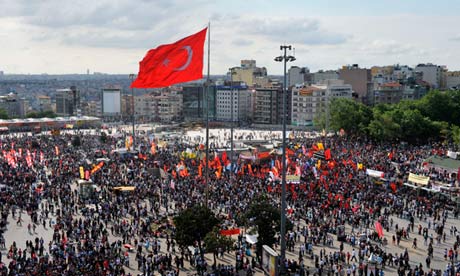 "Erdogan does not listen to anyone any more," said Koray Caliskan, a political scientist at Istanbul's Bosphorus University. "Not even to members of his own party. But after the protests this weekend, he will have to accept that he is the prime minister of a democratic country, and that he cannot rule it on his own."
The dramatic events also exposed the complicity and almost complete government control of mainstream Turkish media, which largely failed to report the protests.
"The Turkish media have embarrassed themselves," Caliskan said. "While the whole world was broadcasting from Taksim Square, Turkish television stations were showing cooking shows. It is now very clear that we do not have press freedom in Turkey."
Human rights groups have repeatedly expressed their concerns about the lack of freedom of expression in Turkey, and Erdogan routinely criticises media outlets and journalists who do not agree with his views and those of his ruling Justice and Development party (AKP).
Opposition politicians urged Erdogan to listen to people instead of trying to silence them.
read more >>