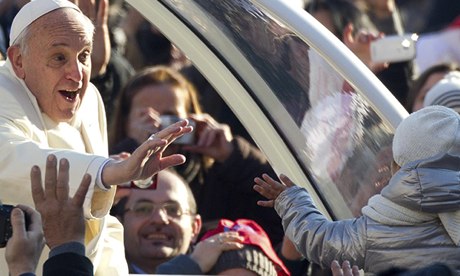 "Never be afraid of tenderness"
In this exclusive interview, Pope Francis speaks about Christmas, hunger in the world, the suffering of children, the reform of the Roman Curia, women cardinals, the Institute for the Works of Religion (IOR), and the upcoming visit to the Holy Land
...
"The ideology of Marxism is wrong. But I have met many Marxists in my life who are good people, so I don't feel offended," Francis was quoted as saying. Defending his criticism of the "trickle-down" theory of economics, he added: "There was the promise that once the glass had become full it would overflow and the poor would benefit. But what happens is that when it's full to the brim, the glass magically grows, and thus nothing ever comes out for the poor ... I repeat: I did not talk as a specialist but according to the social doctrine of the church. And this does not mean being a Marxist."
...