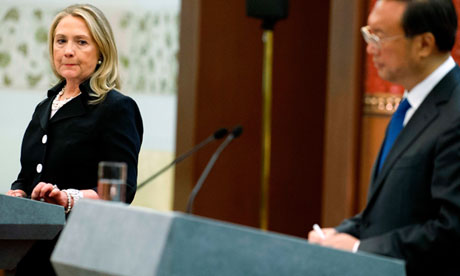 Talks between US secretary of state, Hillary Clinton, and Chinese leaders have failed to come to agreement over how to end the crisis in Syria and resolve Beijing's territorial disputes with its neighbours in the South China Sea.
Clinton, who met President Hu Jintao, the foreign minister, Yang Jiechi, and other top officials – but not leader-in-waiting Xi Jinping – wants China to stop backing the regime of Syria's President Bashar Assad, and has been pushing for it to be more flexible in lowering tensions over the potentially oil-rich South China Seas.
But comments from Clinton and Yang on Wednesday showed the countries remain deeply divided on those issues, although both maintained they are committed to working together despite their differences.
The US and other countries are upset that China and Russia have repeatedly used their veto powers in the UN security council to block actions that could have led to sanctions against Assad's regime. China says Syria's civil war needs to be resolved through negotiations and not outside pressure.
"I think history will judge that China's position on the Syria question is a promotion of the appropriate handling of the situation," Yang told a news conference with Clinton. "For what we have in mind is the interests of the people of Syria and the region and the interests of peace, stability and development in the region and throughout the world."