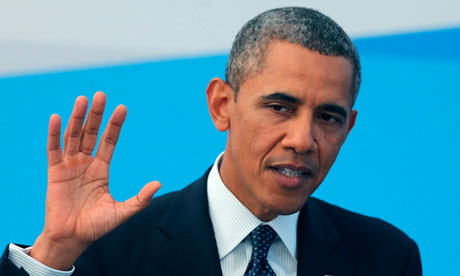 Barack Obama left a fractious G20 summit in St Petersburg on Friday after assembling a fragile alliance of countries accusing Bashar al-Assad of being responsible for using poison gas against civilians. However, the US president left behind a defiant Russian counterpart threatening unspecified military support for Syria if America attacks.

Vladimir Putin claimed that a majority of the G20 opposed any US-led intervention, and gave no ground by continuing to insist that the chemical weapons attacks were a provocation by Syrian rebels designed to win international backing for an attack on the Assad regime. David Cameron described Putin's position as impossible.
Putin revealed that he and Obama had had a one-to-one meeting lasting around 30 minutes in which they had discussed Syria. Both men had listened to the other's position but they had not agreed, he said.
British sources suggested that Obama, struggling to put together a majority in the US Congress for military strikes, may have to wait for up to a fortnight for a vote in the House of Representatives, where opposition is strong.
Echoing that timing, the French president, François Hollande, the only definite European supporter of a military strike, said he did not expect a congressional vote in the US until the UN weapons inspectors had reported on whether there had been a chemical attack on 21 August. Cameron added that no one doubted there had been an attack, not even Syria; the dispute was over culpability, he said.
read more >>