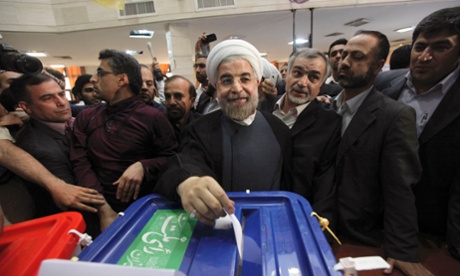 The moderate Iranian cleric Hassan Rouhani has taken a strong lead in the initial results of Iran's presidential election, threatening to win a simple majority and avoid a second-round runoff.
With more than 8 million votes counted from the 50 million electorate, Rouhani had 51.2% of votes cast, Reuters reported. Rouhani's nearest rival was the conservative Tehran mayor, Mohammad Bagher Ghalibaf, a long way behind with 16.7%. Hardline nuclear negotiator Saeed Jalili was third with about 13%.
Seven hours after polling ended, Iran's interior minister, Mostafa Mohammad-Najjar, appeared on state-run television to begin announcing the results.
The authorities had initially announced they would begin to reveal counts just after 2am local time on Saturday (10.30pm Friday BST), but the first figures did not come through until at least four hours later. This was in marked contrast to the previous vote in 2009, which many believed was rigged, when final results were announced in matter of few hours.
"It has taken them seven hours to count 800,000 votes while four years ago they counted almost 30 million votes in few hours," one Iranian living in Tehran said via online chat on Facebook. "It might be a good sign that actually this time they're really counting."
Unlike in 2009, Iranian agencies refrained for many hours from speculating on the results or publishing unofficial counts.
On Friday millions of people across the country queued to elect a successor to Mahmoud Ahmadinejad.
read more >>